Welcome to Hotel Vita Hästen!
History of over hundred years lies within the walls of Vita Hästen Hotel, situated in the heart of the picturesque village of Hästveda. Surrounded by a beautiful garden, the hotel offers an impressive view on the 800 years old church. According to the legend the church was erected on the place where a white horse, pulling a heavy log, fell of exhaustion. In honour of the white horse, Hotel Vita Hästen (Swedish for "White horse") was named after this historical event.
Carefully selected furnishings and warm colours give unique charm to all our interiors. Choosing adequate decorations and paying attention to every detail makes from this family run hotel a very special place for your holidays and weekend getaways.
Vita Hästen is a fairy-tale place from which you can enjoy lovely promenades along nearby lakes and forests as well as relaxing and peaceful moments on the white sand beaches at the Baltic Sea. Hästveda offers also a range of outdoor activities such as golfing, horse-riding, biking and kayaking. Savor the day with a visit to the beautiful castles in the region of Eslöv and discover the closely located castle-monastery Bäckaskog, surrounded by two lakes, a charming park and a herbs garden.
A warm welcome awaits you from our staff at Vita Hästen Hotel assuring every guest is treated as a special one. Your comfort and well-being is our priority to make your stay at Vita Hästen a truly memorable experience.
Magdalena, Chris and their sons Noah and Fynn are delighted to welcome you to Hotel Vita Hästen!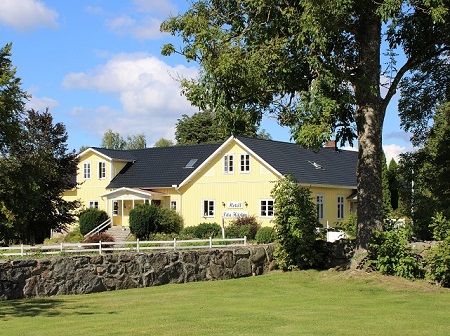 Contact us

Hotel Vita Hästen
Kyrkbyn 537
282 75 Hästveda
Sweden

Tel.: 0046 / 725 573 495
E-Mail: hotel@vita-hasten.com

Web: www.vita-hasten.com

Facebook
How to get to Hästveda

By plane
Copenhagen Airport
Malmö Airport
Kristianstad Airport
Ängelholm Airport

By car rental (Offices)
Copenhagen Airport
Malmö City & Airport
Hässleholm

More info: www.rentalcars.com

By train
From Hässleholm
ca. 5 min (direct)
From Malmö
ca. 50 min (1 change)
From Växjö
ca. 60 min (direkt)
From Copenhagen Airport
ca. 90 min (1 change)
From Stockholm
ca. 3 1/2 h (1 change)
From Kristianstad
ca. 20 min (1 change)
More information: www.sj.se

By bus
From Hässleholm
ca. 25 min (direct)